About RAS Consulting & Investigations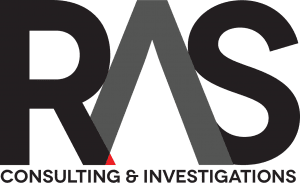 RAS Consulting & Investigations is a services firm created to provide clients with modern, technologically sound approaches towards physical security and investigations.
Our primary suite of services focuses on physical security master planning, where our team of experts assess, architect and deploy integrated workplace solutions to protect our clients from the host of modern-day threats.
Our main objective is to help our clients to prevent, prepare and respond to the infinite circumstances that may impact the operations of their business and disrupt their employees.  Our clients rely on us to prevent fraudulent business relationships, investigate potentially harmful employees and identify vulnerabilities in their physical space, including plans and designs.
As trusted trainers, skilled leaders and experts in the intersection of operations and technology, our clients put the safety of their businesses, intellectual properties and, most importantly, their employees in our hands.
At RAS Consulting & Investigations, we are proud to have earned the trust of our clients and are committed to demonstrating our capability to be the solid force that allows businesses to operate in a state of surety and safety.

Credibility
Our team members hold advanced technology degrees and certifications as well as years of experience in security operations, investigations and law enforcement, enabling RAS to provide one of the most well-rounded consultancies in our industry.
Commitment
We see projects through to the end and ultimately seek to build an ongoing relationship with our clients.  Because this is our expertise, we know what it takes to execute an effective and cost-efficient project.  We work hard to ensure that our clients are getting the service that they should expect from beginning to end.
Integrity
In our line of work, it is imperative to work with a company of integrity considering we are working with confidential material and sensitive circumstances at all times.  Our clients have come to learn that they can expect us to meet our commitments, which is important to build and maintain trust.  We work with the best interests of our client in mind, doing the right thing simply because it is the right thing to do.
Neutrality
We work closely with industry manufacturers, integrators and service groups to ensure that we are current on the latest technologies and services available for our clients.  We do not accept compensation from any of these partners to ensure that we are representing our clients' best interests at all times.
Innovation
Technology and, subsequently, physical security advances quickly.  We know that it is not enough to simply provide a background in law enforcement to meet our clients' needs and, as such, we strive to grow quickly to provide modern solutions to our clients' ever-changing needs.
Respect
Our clients work hard to architect the culture of their organization.  We make it a point to work within this culture and create the least amount of disruption while executing on our joint initiatives.
Our Mission
Our mission is to be a loyal advocate for our clients, providing best-in-class physical security planning and execution, consisting of technology, procedures, investigations and management. We strive to build a symbiotic partnership through which our clients can rest assured that they are acting in the best interest of their companies and operating in a safe and efficient manner.
Major Problems to Solve
Organizations that feel prepared for an Active Shooter Event
21%
Businesses that are concerned about their preparedness for workplace violence
62%
Executives and Leaders that are more concerned about employee and student safety than in the past
79%