Dr. Matthew Bogaard
Senior Consultant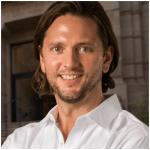 Education
Matt earned his Doctorate in policy from the University of Southern California with an emphasis on how emerging technology is changing the face of corporate security.
He earned an MA in public administration at the University of Southern California, and a
BA in sociology at the University of Michigan.
Areas of Expertise
Matt is adjunct faculty at USC and UCLA, and in 2013, he was named to the Security 500 list as a Top Security Leader.
He is a frequent guest speaker, accomplished entrepreneur, industry leader, and has advised on several Hollywood-produced television shows.
Dr. Matthew Bogaard serves as a senior consultant on special projects for RAS. He has over twenty-five years' experience in government and the private sector, in crisis management, disaster planning and response, business continuity, intellectual property protection, workplace violence prevention, high-risk travel security, threat assessment, security design, special event planning, and investigations.  His consulting covers clients in entertainment, video gaming, financial services, pharmaceutical, manufacturing, and retail industries around the globe in a variety of locations.
Prior to his consulting career, Matt was Head of Corporate Security at DreamWorks Animation SKG. In this entertainment-technology environment, he oversaw security initiatives worldwide.  Before his appointment at DreamWorks, Matt spent fifteen years in law enforcement in a variety of assignments including investigations, recruiting, training, media relations, and community outreach. As a detective, he investigated kidnappings for ransom and highly complex financial fraud, among others.
Matt is the owner and founder of the Bogaard Group International, Inc. ("BGI"), a global security consulting firm. He is a Certified Business Continuity Planning Professional and an Infrastructure Liaison Officer with the U.S. Department of Homeland Security.
contact details
2447 Pacific Coast Highway, Suite 200, Hermosa Beach, CA 90254
Contact Us
Being available to current and potential clients is important to me.  Please use this form to contact me directly if you'd like to have a discussion.